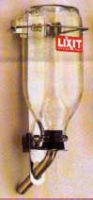 Lixit TOUGH TIP Water Bottles - Pre Loved
This is a preloved item, but in as new condition and has been sterilized ready for use.
lixit TOUGH TIP water bottles are super for large to extra large birds , offering fresh water and are STRONG! (ideal for use with cockatoos, eclectus (that love to dunk food in water!) and large to extra large macaws.  these bottles are not generally available in Australia and have been imported.  Original purchase price on these bottles was over $130 each (plus freight from US) 
MORE INFORMATION: Because parrots often like to dunk their food in their water, the dish, has to be dumped and cleaned more often than most of us would want.
For that reason it is a good idea to not use an open water dish in your parrot's cage.
If you dispense water to your bird(s) in a bottle, the water stays fresh much longer, and remains clean and sanitary, unlike open water dishes.
Lixit Water Bottles are made with durable, thick wall glass, and they are dishwasher safe.
Features:
Fits most cages
Easy to install
Quick-release bottle holder
One-piece tube cap with ultra vacuum seal.
US stainlees steel Ball-Point™ tube and mounting hardware
Non-Toxic, USDA approved, rubber stopper
All components can be sterilized
No springs for your parrot to get trapped in!


32 Ounce Capacity Glass Bottle and Upgraded Super Tough Tip for large birds.