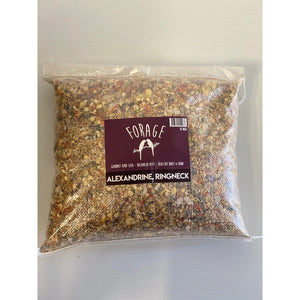 NEW! Forage Gourmet Bird Seed Ringneck + Alexandrine 5 kg
Birds are instinctive foragers, perfectly attuned to seeking out food in their natural environment. It's about more than just nutrition - foraging for food keeps wild birds' minds sharp and stimulates their senses.
Meet 
Forage
. This all-natural range of gourmet birdseed is formulated to keep your bird healthy as well as happy, and each recipe is made from a blend of seeds, nuts, grains, dried fruit and more.
Forage encourages your bird to search for their favourite ingredients, the same way they would in the wild, keeping boredom at bay. It's a rich, balanced diet, designed to help your bird thrive.
Australian made and owned
Developed in conjunction with avian specialists to provide a balanced diet for your bird
A blend of 100% human grade ingredients, including natural seeds, nuts, grains, dried fruit, herbs and veggies
Contains all vitamins from A to K
Helps prevent worms
Boosts your bird's immune system and promotes healthy digestion
Forage recommend mixing things up a little and adding fresh fruit and vegetables to your bird's food for a complete diet
Give your bird the very best. 
Ingredients
Sorghum, corn, wheat, grey stripe sunflower seed, oats, black sunflower, barley, panorama millet, white French millet, canola seed, canary seed, shirohie millet, red pannicum millet, linseed, shell grit, whole peanuts, coconut, banana, pineapple, green split peas, buckwheat, paw paw, apple, pepita, carrot, almond, black sesame, currants, quinoa, apricot, raisins, cranberry, chilli and garlic
Recipe: Ringneck + Alexandrine 
Weight: 5 kg