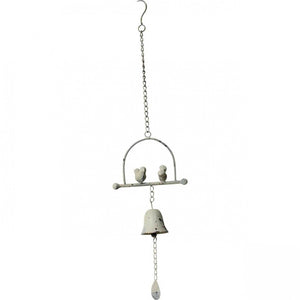 Wind Bell Swing Birds
There's something so wonderful about sitting outside and listening to the sound of wind chimes as the breeze sweeps through them and rocks them from side to side. The sound is soothing, one that can easily calm you at the end of a long day. This Swing Birds Wind Bell from Lavida is sure to bring a smile to your face in all the best ways possible.
Not only are these white wind bells lovely, but they make a sound that you'll long to hear whenever you're outside. These decorative accents feature a long chain that holds up two little birds that are sweetly sitting on their own swing as a single bell hangs below them. They're ideal to put on a porch, outside of a business, or in front of an open window as the wind blows through, and they make wonderful gifts for everyone on your list from your Mum to your best friend who has a love of birds.