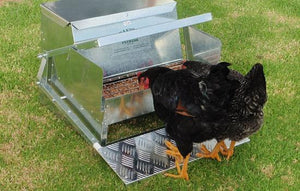 Grandpa (Treadle) Feeder - Large
Capacity: 18kg
Suitable for: Heavier poultry such as laying hens and also larger flocks. Will feed 12 chickens for 10 days.
*extra shipping cost may apply for interstate and rural areas on this product
Cantilevered lid prevents access by sparrows, rats, mice, and other pests.

Easy-access lid prevents rain ruining your feed.

Sturdy metal construction provides trouble-free operation for years.

Large storage area holds approx 9kg/20lb(standard feeder) or 18kg/40lb (large feeder) of poultry feed.

Aluminium, textured tread plate.

High quality galvanised finish built to last in tough, outdoor conditions.

Sick and tired of feeding sparrows?
Animals
The feeder can be used by chickens, bantams, and pheasants. 
Using with lighter birds
For very light birds or bantams which are too light for the feeder, it is very easy to adjust the feeder by putting a small weight on the tread plate. Do not use with baby chickens as they may get caught when bigger birds step off.
How many chickens can feed at once?
A large feeder can have 4-5 chickens eating together at one time. Because of its larger capacity, we recommend the large feeder for flocks of a dozen or more birds.
Assembly
The product comes almost fully assembled, just fasten the treadplate on and you're ready to go.
The whole product fits easily into your car for transport.
Feed Size
A large feeder can hold 18kg/40lb feed: generally will feed 12 hens for 10 days.
Training birds
The feeders come with 2 training bolts to limit movement and instructions for their use: 2 settings with one week on each setting.
Feed Types
The Feeders are suitable for all dry feeds.