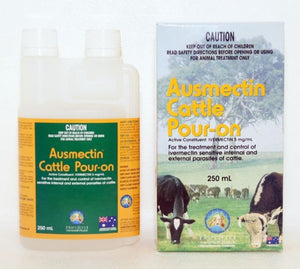 Ausmectin 250ml
Ausmectin is a powerful anthelmintic and anti-parasitic backline pour-on for cattle. It contains Ivermectin (a macrocyclic lactone) and one of Australia's most popular chemicals for cattle parasite control.

Ausmectin controls internal and external cattle parasites with a single application. It can be used on most classes and ages of cattle and offers excellent parasite control in all regions of Australia.

Ausmectin is also effective against cattle lice, mites and ticks.
Active Constituents
Benefits
Powerful – Highly effective against a range of parasites
Effective – No known resistance in Australia.
Convenient – Sustained activity against a variety of parasites.
Economical – Broad spectrum parasite control at a single low cost per dose.
User Friendly – Easy pour-on application.
Low Risk – Can be used in cattle of all ages including calves at foot.
Baymec is highly effective against:
Gastrointestinal roundworms
Lungworm
Ticks
Mites
Cattle lice
Buffalo fly