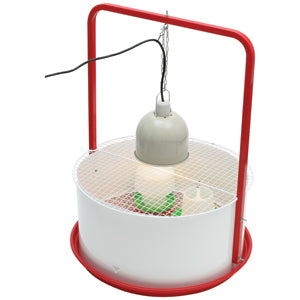 Brooder Tank Crown - Complete
This brooder tank is most suitable for the amateur breeder, and is the perfect set up fro anyone new to brooding chicks!  The circular design avoids any interior corners - the cause of many chick deaths.
The streamline design makes for easy cleaning and is strong and quality made. The brooder is easily moved about using the high handle. The tank is 60cm in
diameter x 30cm high. The mesh floor is raised about 5cm from the large
bottom pan so that droppings fall clear and are easily disposed of.  Ample space is available for food and water containers

The upper mesh cover is easily removed for access. This brooder should
be ideal for the hobbyist raising 30-or-so chickens, or for the breeder
of other small animals, birds or reptiles.
The brooder is supplied with heater lamp, but the globe is an optional extra. Intensity of the heat lamp can be controlled by adjusting the
chain length.
The whole unit has excellent ventilation for a healthy
environment.
Box contains: Brooder, 1.5kg feeder, 1.3lt drinker, heat lamp (globe not included) as pictured
*Large Bulky Item, extra shipping fees may apply