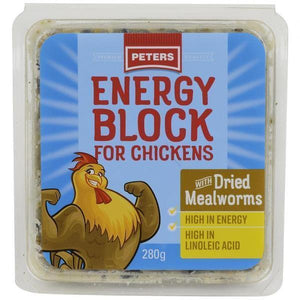 Peters Energy Peck Block for Chickens - with Mealworms 280g
Your backyard chooks give you endless hours of entertainment and companionship - and maybe even the odd egg here and there! It's about time you gave them something back...

Peters Energy Blocks for Chickens are loaded with ingredients, carefully selected to help your chooks thrive. It'll give them an energy boost so they look and feel great - and they'll lay more eggs, too!


Made in Australia and developed for Australian conditions
High energy treat that's perfect for backyard chickens

Improves egg size and production
Each block can be divided into four single servings



Ingredients
Australian beef tallow, wheat flour, black sunflower, white millet, plain canary, panicum, grey sunflower, safflower, hulled oats, dried mealworms and antioxidant