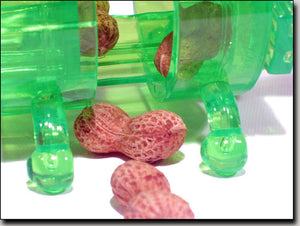 Foragewise Snack Rack Toy
The Snack Rack makes an awesome foraging toy. Place treats in the upper section of the toy. Rotate and slide both rings up to cover the treats. Turn the rings to lock in the top section. Hang several around your bird's environment and watch instinct take over!

You can also adjust the skill level! By placing the treat in the bottom rather than the top, your parrot has to lift (rather than let gravity do the work) to get the treat out. 
This acrylic toy is very solid and is a fascinating shape to hold and play with. Dishwasher safe (we recommend you remove the nickel plated metal parts first though) this toy is great even for the biggest beaks.
The Snack Rack comes with a nickel plated quick link.
Dimensions: 
15cm x 11cm x 11cm, Chain and Quick link = an extra 12cm.
Bird Size:
 Medium, Large
Brand: ForageWise