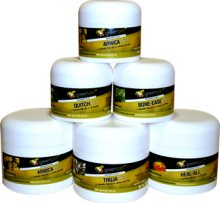 Greenpet Herbal Cream Heal All 100g
Contains: calendula, comfrey, goldenseal, aloe vera & vitamin E.

A natural herbal cream that can be used for all species.




Product Reviews
Brilliant!!!! 

Posted by Karen - I have used this product on my Samoyed. He had sores on his nose and ears. I tried several different ointments and nothing worked. Until I tried the Greenpet Herbal Cream Heal all. Within one week his sores were healed. Thankyou. I highly recommend this product.

---

WORKS REALLY WELL AND QUICKLY 

Posted by Kim 

I've been using this on my Shar Pei. He gets rashes on his belly and in his armpits and this clears them up within 24 hours with only 2 applications. It's very economical too. Thanks Greenpet. Saves me resorting to cortisone.

---

GREAT PRODUCT 

Posted by Denise Goodman 

GREAT PRODUCT!! This cream has healed up sores on my horse's face that I had tried other ointments, lotions and potions without success. After using the Heal-all for a week, the sores have completely gone and healed up beatifully. Thank you!!