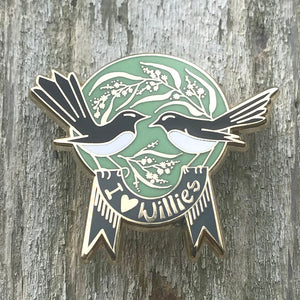 I Love WIllies Enamel Pin by Bridget Farmer
A bit cheeky, but so is the bird!
Declare your admiration for Willie Wagtails by shouting, loud and clear, in highly populated areas, "I LOVE WILLIES!" Or alternatively, you can subtly wear this pin.
"This design was suggested by a customer and I thought it was a great idea. Thanks Kelly!" Bridget Farmer

Measures 3.5cm wide and 3cm tall. Fixes with a butterfly clasp at the back.