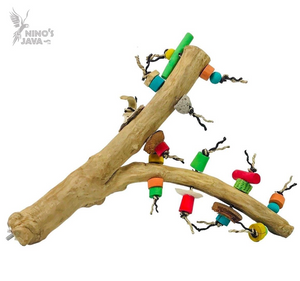 Multi Branch Medium with Toys by Nino's Java
MULTI BRANCH WITH TOYS SMALL – useful and fun – colour, and texture. Very attractive to birds. Most components reuseable. your medium to large bird will enjoy hours of fun on what will become their favourite place to perch in no time! 
Available in three sizes.  This listing is for the medium size that suits  medium to large birds
Due to being a natural product, these perches vary in size.
Keep your parrots feet healthy and comfortable
Provide 

 

different perching surfaces, textures, sizes and shapes so your bird won't suffer from debilitating foot conditions

Naturally keeps birds claws trimmed

Variablity in the way their feet grip and walk on the perch; using the foot muscles

Provides a natural surface to chew and or forgage
Ninos Java Multi Branch with Toys are a step up from multi branches. They consist of a tough java wood multi branch that has toys on at least one of the branches. The toys typically include coloured Java Wood pieces and bamboo, coconut shell and husk, seashell, cuttlefish, pumice and cob. They are attached to the branch using a tough woven pandan reed. 
Size

Medium - 2cm to 4cm dia x 25cm to 30cm long - assorted shapes in the branch configaration