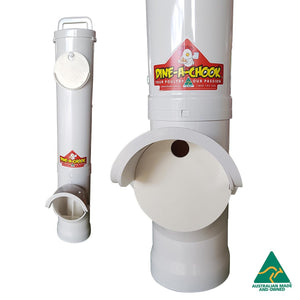 NEW! Dine a Chook Closure Cap for Dine a Chook Feeders
Are rats a big problem in your area?
Our new Closure Cap for Dine a Chook Chicken Feeders allows you to close off the feeder at night time to stop rats in their tracks. Although the Dine A Chook feeder by design helps prevent rats, if they are hungry they'll try anything to get to a source of feed when hungry. Our super new closure cap locks down your feeder.
Closure Cap. Designed to restrict access to the feeder.
Clips neatly into the opening of the feeder. Can be hung on the front of the feeder when not in use.