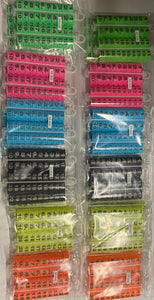 Numbered Leg Bands - Two Sizes
Open split leg rings.
Numbered Medium - Lock On Bird Leg Bands.

This band has an extra strong locking action to ensure that it does not accidently fall off. Strong clip. Easy application and removal.
Reusable. Squeeze ring ends together to click closed.
Use a pointed object such as a pen, nail or small screwdriver to re-open the clip.
Height of leg bands approximately 10mm 

Packs contain 20 leg bands numbered 1 - 20