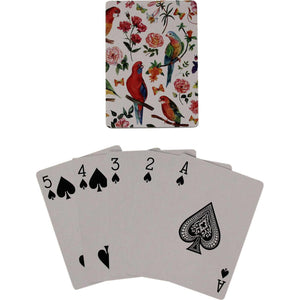 Playing Cards - Pretty Parrots
With this pack of cards, there are endless games to play in a long car journey or if you simply want to pass the time without needing technology then our 'pretty parrots' playing cards will make the hours fly by. They can be your fun partner for those long winter nights at home and you can even slip the pack into your pocket for a game with your neighbour next door or out with your friends.
Versatile and fun, this vibrant set is a staple in every household and is very portable due to its small size making it the fun element of any occasion. Also, they can be easily stored and put away for the next time. Whether you're interested in poker or blackjack, snap or solitaire and trumps or rummy, these high - quality playing cards are perfect for all of your favourite card games and will provide hours of fun playing time that you will cherish for years to come.