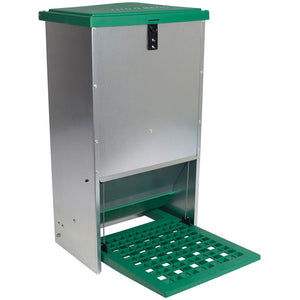 Poultry Feeder Feed-O-Matic Treadle Feeder 20kg
The food in this type of feeder is only available when poultry stand on the step plate. The feeder shutter then opens and the feed is available. This prevents access and contamination by birds and vermin. This is all activated by the weight of the bird - which can be set from 250gm to 5kg. The feed chamber has space-dividers to keep birds from competing with each other and access to feed can be adjusted on basis of the weight of the animals .
Also an anti-spill lip to prevent fall-out of feed. The feeder is completely weatherproof. All zinc-plated with glass-nylon lid and step plate.
This 20kg capacity feeder will take a 20kg bag of feed which is a terrific concept.  

Handy 5kg capacity feeders are also available in separate listing 
Dimensions: 
Needs minor assembly on receipt. Instructions included.
* extra shipping may be required on this product for rural and out of metro deliveries